Check the ribbon balance using the left LED button on the front panel of the KODAK Card Printer.
※ We supply extra panels in the ribbons as ribbons can skip or break. Even if there are unused panels in the ribbon core, when the ribbon balance displayed by the printer as "0", replace the used ribbon with the new one.
Check if the ribbon cartridge is installed correctly. Please refer to the "Card Printer User Manual and Quick Start Guide" that is located in the printer box for the correct ribbon installation.
If the ribbon breaks, connect the two ends of the ribbon using a general purpose clear tape and continue using.
Check the color in/out sensor status. This sensor may be dirty.
You will need to clean it using a soft cloth or a cotton swab dipped in isopropyl alcohol as shown below.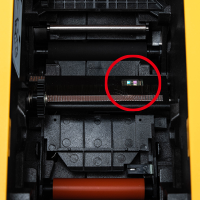 Color In Sensor & Color Out Sensor