– The print head is dirty :  
   Clean the print head by using a cleaning kit. 
– The print head is damaged :
   Contact your local supplier to replace the print head.
– The ribbon cartridge is installed incorrectly : 
   Check the installation status of the ribbon cartridge and if the print ribbon has any wrinkles.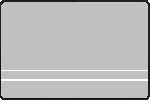 Unprinted horizontal line